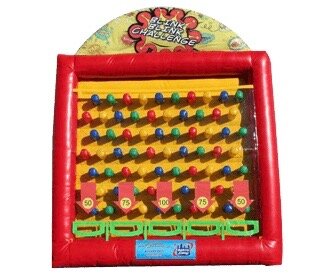 Monitors: 1
Outlets: 1
Age Group: 7+
Description
The origional game is now here and available to order.
Introducing the Blinko Challenge, the ultimate game of skill and precision that will keep your guests entertained for hours! Available for rent from Jumpin Wheelies, the Blinko Challenge is the perfect addition to any order, whether you're planning a birthday party, corporate event, or any other special occasion.
With its vibrant colors and eye-catching design, the Blinko Challenge is sure to attract attention and create a fun atmosphere for your guests. The game involves dropping small balls into a grid of pegs, with the goal of landing them in the highest-scoring slots at the bottom. It's a test of hand-eye coordination, strategy, and luck, and it's sure to challenge players of all ages.
When you rent the Blinko Challenge from Jumpin Wheelies, you'll get a high-quality, well-maintained game that's easy to set up and use. Our team will deliver and set up the game at your event, and we'll be on hand to provide any assistance you need throughout the rental period.
Don't miss out on the fun and excitement of the Blinko Challenge. Contact Jumpin Wheelies today to add it to your order and take your event to the next level!